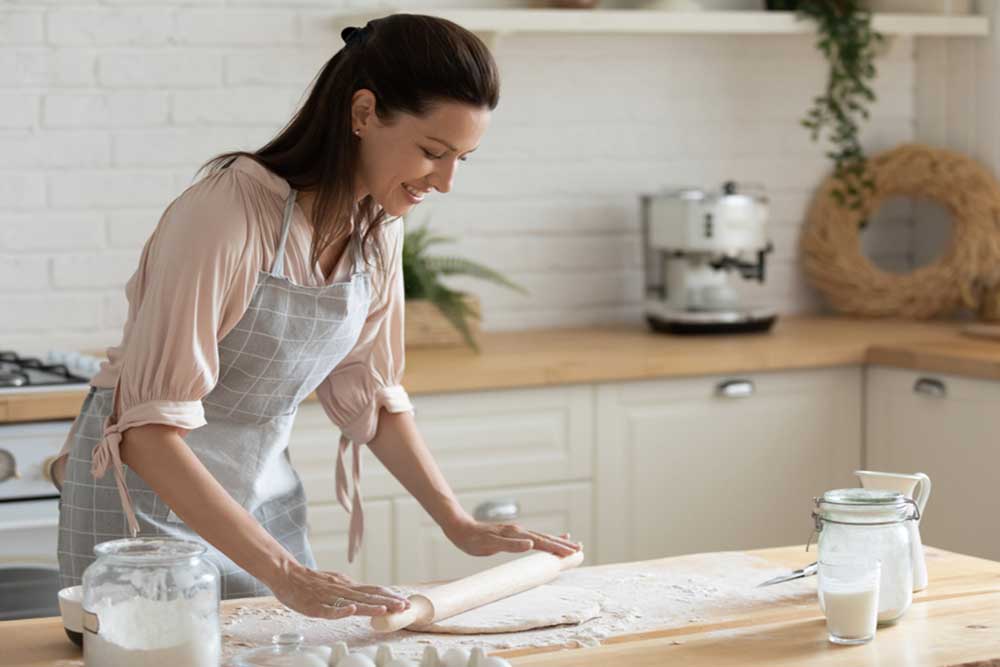 Are you looking for a new hobby? Try baking! Learn tasty new recipes and make delicious meals and desserts. We'll help get you started in our beginner's guide to baking. Discover the basics and find out how to begin your baking journey!
What Exactly Is Baking?
When you think of baking, you probably imagine a toasty loaf of bread or a warm tray of chocolate chip cookies. You may also think of kitchen staples like eggs and flour or dessert ingredients like baking chocolate. These are delicious examples of recipes and baking essentials, but baking is much more than that.
First, let's discuss the basics: Baking is a preparation method using dry heat. Most of us bake with an oven, but you can also do it with hot stones or ashes. It's also the art of making bakery products like bread and cookies. As a baker, you can create a bright and buttery fruit pie or show off your skills with fruit-filled pastries.
Other fun recipe ideas include fluffy dinner rolls and delicate muffins. Impress friends and family with chocolate fudge brownies or a truffle cake. Pound cake and cinnamon rolls are crowd-pleasers, but you'll also delight guests with fudge bars or chocolate biscotti.
How to Get Started with Baking
There is no correct way to start baking! Many beginners like to start by stocking up on essential baking supplies. Once you stock your pantry, it's time to create a simple and delicious recipe.
Some of the best recipes for a first-time baker include chocolate chip cookies and blueberry muffins. Make vanilla cupcakes or shortbread. Zucchini bread is an easy recipe and a tasty, wholesome snack. Try your hand at pound cake or banana bread. Make an after-dinner treat that everyone will love with chocolate brownies or pie bars.
What to Buy: A Beginner's Essentials and Tools 
Beginners will need a few essential ingredients and tools. When you're first starting out, you don't have to buy every baking product in the grocery store. You'll have plenty of time to stock up in the future. Instead, we recommend finding or shopping for the following items to supply your kitchen:
Baking Tools
Measuring cups (dry and liquid)
Measuring spoons
Wooden spoon
Rubber spatula
Whisk
Rolling pin
Baking pans (rectangular, round, loaf, square, muffin)
Baking sheets
Hand mixer
Candy thermometer
Baking Ingredients
Keep these essential baking tools and ingredients in your kitchen and you'll be ready to bake something sweet or savory! If you want supplies like stand mixers or a new set of chef's knives, you can always pick them up later. Baking supplies make excellent gifts, so remember them when it's time for your birthday or a holiday.
When shopping for something new, we recommend a pastry brush and a sieve for sifting dry ingredients. A wire rack will help you cool your baked goods while keeping them tasting fresh. Put a pie plate and a zester on your list. It's also nice to have a citrus juicer and a pastry wheel.
When it comes to grocery items, your recipe may call for additional leavening agents like yeast or eggs. Check out our link to their plant-based replacements. You may also need to add dairy products, or you can substitute plant-based milk. Visit the grocery store for fresh essentials before you bake, and you'll save time on preparation.
Plant-Based and Vegan Baking 
If you are vegan or are baking for a plant-based diet, you have plenty of delicious recipe options! Nowadays, baking and eating plant-based recipes are just as tasty as it is using animal products like eggs and dairy. First, look for a recipe that is made for a vegan diet or makes for vegan-friendly substitutions. Many of the most popular baked goods do well with plant-based substitutes, including cakes and muffins.
Most brownies and quick bread recipes allow for simple swaps. You should be able to make your favorite cookie recipes vegetarian or vegan, including oatmeal and shortbread. If you're making chocolate cookies or chocolate tarts, use vegan chocolates instead. Plant-based chocolate bars (dark chocolate or oat milk chocolate) and chocolate discs for baking will give you a delicious taste and texture without animal ingredients or added sugar. Buy baking chocolates that are 100% organic and non-GMO.
It's helpful to know vegan egg substitutes like plant-based yogurt and applesauce. Some recipes call for tapioca or aquafaba instead of chicken eggs. There are many swapping options, including vinegar and baking powder. Experiment with different substitutions and baked goods to find out what works for you.
Helpful Baking Tips
Now that you know how to begin baking, we have a few helpful tips. Remember, baking is an exact science! Follow your recipes step-by-step and measure your ingredients. Taking your time will ensure you get the taste and texture you desire. Check your recipe as you go to make sure you're not missing an ingredient.
Ensure your oven is at the right temperature before you start baking. Avoid opening the oven too often while baking. Instead, you may use your oven light. To test if your cake or brownies are done, insert a toothpick into the batter. If it comes out nice and clean, it is ready to remove from the oven. If you see pieces of batter sticking to your toothpick, leave it in the oven for longer and as directed by your recipe.
Learning How to Bake
Baking is a skill and hobby everyone can enjoy! With so many savory and sweet treats out there, it's easy to find inspiration to start. We recommend making a baked good you love, like coffee cake or brownies. It's also fun to bake for the first time for a loved one. Does your sweetheart like German chocolate cake or sugar cookies? Find a beginner's recipe, and then shop for its essential ingredients.
Check your pantry to ensure you have the tools to mix and prep your batter and finish your delicious snack. You'll gain new skills and confidence to make you a lifetime baker. Discover new recipes and learn how to use essential baking tools. Soon, you'll feel like an expert in the kitchen.